Daily Minyan
---
Our daily morning minyan is now taking place both in-person and virtually.
A Spiritual Recharge
Morning minyan gives us a spiritual recharge when we need it most—every morning before the workday begins! The minyan is a friendly resource and supportive community resource for those in mourning or saying kaddish (the memorial prayer) for a yahrzeit (the anniversary of the date of the passing).
Dress is whatever the rest of your day requires. Minyan members lead the davening (prayers). Come every day, once a week, or once in a while. Learn to chant the weekday liturgy with SiddurAudio.
If you need a minyan for an evening or want to be sure of having a morning minyan for a yahrzeit, please contact Rabbi Minkus, Bob Channon, or Cantor Rosenberg through the synagogue office at 773.752.2770 two or three days in advance and bring relatives and friends with you. Together we will try to ensure the presence of a minyan to help you fulfill this important mitzvah.
Access the weekday Sim Shalom siddur
---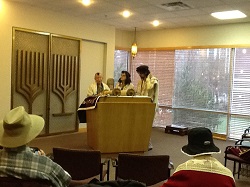 ---
Read Rabbi Gertel's salute to our minyannaires. | Learn about our vintage Tzedakah Box.
---
Fri, September 29 2023 14 Tishrei 5784