Pesach, the Season of Our Liberation
→ Schedule of services
Mechirat Hametz: How to sell your hametz to Rabbi Minkus.
Reminder: The office closes at noon on Erev Pesach.
Do you have a place at your table? Passover begins on Wednesday night, April 8, with the first seder meal. Please contact the office no later than Wednesday, April 1, if you are in need of a place to go or if you will have a place at your table for guests on either Wednesday or Thursday night.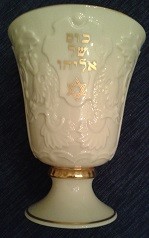 Chag Sameach and Happy New Year! Yes, Passover is one of several Jewish New Years. Passover commemorates when our ancestors emerged from slavery to become a nation. On the 15th of Nisan we celebrate that we, as Jews, are a people, whereas the 1st of Tishrei (Rosh HaShanah) commemorates the birth of the world. And in light of this, spend time at your Seder reflecting on the previous year while giving voice to some of your hopes for the upcoming year. At your Seder ask questions, disagree, discuss and be fully present. On your Seder Plate put a corkscrew (representing the cyclical nature of Jewish life), an orange (a feminist and inclusive motif), a fishbone (you decide!), and other items that will lead to everyone, children and adults alike, to ask why. And as we open the door for Elijah, in part symbolizing the protection and freedom we feel, may we remember that we may be free but too many are not. For us (Rabbi Minkus and Cantor Rosenberg), we are endlessly grateful to be a part of a community that is thoughtful, engaging and inclusive. May this Passover, this Jewish New Year be one of health and happiness, and may we all have a Seder of meaning and a holiday that leads to personal and communal growth.
Wednesday, April 8 2020
At 7:30 a.m. morning minyan – Siyyum B'chorim
After morning minyan – First-born Seudah
Office closes at noon
First Seder in the home
Thursday, April 9
First Day
9:30 a.m. – Festival Services
Second Seder in the home
Monday, April 13
7:30 a.m. – Morning Services


Friday, April 10
Second Day
9:30 a.m. – Festival Services
Tuesday, April 14
7:30 a.m. – Morning Services

Saturday, April 11
9:30 a.m. – Shabbat Services


Wednesday, April 15
Seventh Day
Sh'vi'i shel Pesach
9:30 a.m. – Festival Services
Sunday, April 12
9:00 a.m. – Morning Services


Thursday, April 16
Eighth Day
9:30 a.m. – Festival Services
11:15 – Yizkor Memorial Service

From The Rabbinical Assembly: Pesah Prep
Mechirat Hametz. If you wish to sell your hametz, email Rabbi Minkus as follows:
I hereby authorize Rabbi Minkus to act as my agent in effecting the transfer of any leaven or mixtures or derivatives of leaven which are in my possession, together with the premises on which they are located in accordance with all the requirements of Jewish religious law.
Your Name:
Date:
Your Address:
Wed, February 19 2020
24 Shevat 5780
Wed, February 19 2020 24 Shevat 5780