1874: Rodfei Zedek is established
The oft-quoted wish "may you live to 120" has been achieved by Congregation Rodfei Zedek, which was established in 1874 in the Canaryville area in what is now the South Side of Chicago, at that time the independent Town of Lake.
Worshipping together in a Canaryville storefront, the founders chose for their congregation a name taken from a phrase in the Book of Isaiah: Rodfei Zedek, the Pursuers of Righteousness.
---
1890: Membership Grows
By the 1890s the membership of Rodfei Zedek had grown to some fifty families, and the Congregation had moved from its storefront location to its own building, a small frame structure located at 42nd and Union Streets.
In 1899, Rodfei Zedek obtained a State charter (Charter dated August 26, 1899 pictured) becoming a religious corporation under Illinois law. Then disaster struck in the form of a fire, completely destroying the little wooden synagogue.
---
1906: Moving to the Grand Boulevard Neighborhood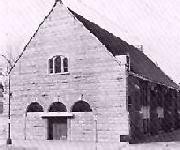 After several years in rented quarters in the area, the Congregation purchased its second synagogue building, an unused Baptist church at 56 East 48th Street (pictured), between Wabash and Michigan Avenues.
Rodfei Zedek moved into this new location in October 1906. This move marked a real change in location for the synagogue. Here Rodfei Zedek was no longer surrounded by Canaryville shanties. Instead it was located amidst the fashionable homes and apartment buildings of the area known as Grand Boulevard, named for the tree-lined thoroughfare that today is Dr. Martin Luther King Jr. Drive.
In 1896, the South Side "L" had begun stops on Grand Boule­vard at 43rd, 47th, and 51st Streets, around which small commercial strips of businesses—many Jewish‑owned—developed. By the turn of the century, good transportation and the construction of a large number of multiple-family dwellings had transformed Grand Boulevard into a solidly middle- and working-class neighborhood, one of Chicago's most desirable.
---
1919: Rabbi Daskal Introduces Change
Largely Orthodox in orientation, Rodfei Zedek functioned either without a rabbi or with a series of rabbis with brief tenures until Benjamin Daskal (pictured), a young man of 25, became the Congregation's fourth rabbi in August 1919.
Rabbi Daskal functioned as the rabbi, later emeritus, until he passed away in 1974. Rabbi Daskal represented the unique blend of tradition and modernity that characterized Rodfei Zedek. Among his early innovations were the introduction of a late Friday evening service and the use of a uniform prayer book for all services.
After Rabbi Daskal's arrival, the membership roster reached a high point of 125 families, and the Congregation was outgrowing the 48th Street synagogue.
---
1923: Moving to Hyde Park
In the fall of 1923, the Congregation purchased a two-story residence at 5426 South Greenwood Avenue in Hyde Park and made plans for a new synagogue on the adjacent land.
On May 18, 1924, Rodfei Zedek laid the cornerstone for its new building, which was completed in 1925 and dedicated on May 23, 1926. We treasure the tzedakah box from this building, now in the Glick Chapel. Innovations in ritual practice continued under Rabbi Daskal and the synagogue's lay leadership.
---
1927: Joining the United Synagogue of America.
An event of considerable significance occurred in the fall of 1927. At the annual meeting of the Congregation, Rodfei Zedek acknowledged that it had become a Conservative synagogue and officially joined the United Synagogue of America.
In making this decision, the members of Rodfei Zedek gave formal recognition to the changes that had occurred within the synagogue during its first half-century of existence. What began as a storefront minyan had now evolved into a Conservative synagogue of stature, to be further benefited by the broadened outlook and strength of national affiliation.
---
1943: Rabbi Simon - Change Continues
In 1942 the Board of Trustees bestowed on Rabbi Daskal (pictured) the title of Rabbi Emeritus, and Rabbi Ralph Simon was installed as the Congregation's fifth rabbi in September 1943.
Among Rabbi Simon's numerous contributions were the establishment of an Institute of Adult Studies at the Congregation and leadership in the establishment of Camp Ramah, a Jewish summer camp in Wisconsin, in 1947.
---
1950: 5200 South Hyde Park Boulevard
Under the leadership of Rabbi Simon, reforms in ritual continued to make worship at Rodfei Zedek more modern and aesthetically appealing. Combined with his educational reforms, over 200 new member families were attracted to the Congregation.
By the end of World War II, it was recognized that the Greenwood Avenue synagogue could no longer meet the demands of a steadily growing membership.
In 1948, property was acquired at 5200 South Hyde Park Boulevard (pictured left), the Congregation's present location. Already on site was a sixteen-room brick mansion. Subsequently, a community hall was constructed in 1950, the sanctuary was dedicated in May 1955, and an educational center was added in 1965. In 1992 the sanctuary was rededicated as the Rabbi Ralph Simon Sanctuary (pictured below).
The decision to move to the present location—to remain in Hyde Park—was an historic one. In fact, Rodfei Zedek was participating in an unprecedented urban experiment: fighting urban blight in a community instead of fleeing from it. After years of community effort, the redevelopment of Hyde Park/Kenwood has been successful.
During this period Rodfei Zedek has become a firmly established Hyde Park institution; it has also become a synagogue known and respected throughout the United States.
*Photographs by Hedrich Blessing Studios
---
1988: Rabbi Gertel: Committed to Change and to Hyde Park
Ralph Simon, after many years of devoted service, was designated Rabbi Emeritus in 1987, retaining that title until he passed away in 1996. He was succeeded first by Rabbi Vernon Kurtz, then in 1988 by Rabbi Elliot B. Gertel (pictured).
Change at Rodfei Zedek continued under the leadership of both men, culminating in the synagogue becoming completely egalitarian. Rabbi Elliot B. Gertel was an innovator whose programs have won Solomon Schechter awards for music and publications and "unique programming."
He pioneered in outreach to synagogue alumni and in joint ventures with other communal agencies, such as Jewish Family Services. Rabbi Gertel has written several intergenerational Festival services. Elliot Gertel became Rabbi Emeritus when he retired at the end of June 2013.
---
2000: Rebuilding
During the 25 years of Rabbi Gertel's spiritual leadership, the Congregation completely reconfigured our facilities (pictured). In 1998 part of our Hyde Park Boulevard property was purchased by the Akiba-Schechter Jewish Day School, and we built a new structure on our site.
The new facility, dedicated in September 2000, was designed to serve the needs of both Rodfei Zedek and the Hyde Park Jewish Community Center. This building represents a remarkable and unique pooling of resources which may well serve as a model for the future of community planning, and it is a reaffirmation of the Hyde Park community of which we have so long been a part.
---
2014: Rabbi Minkus: Our Story Continues
Today, after more than 140 years, we continue to live Rodfei Zedek's "history" as an active religious institution on Chicago's South Side. Rabbi David Minkus (pictured) became our spiritual leader in July 2014.
This American Shabbat, a text study program, is among his initiatives.
---
Get More History
Much more information on the history of Rodfei Zedek can be found in:
Rodfei Zedek: The First Hundred Years, Carole Krucoff, (Chicago:Congregation Rodfei Zedek, 1976),
which is available in the Nelson Judaica Gift Shop.
Sat, December 9 2023 26 Kislev 5784